Every episode Suhaiymah Manzoor-Khan is joined by a different guest to discuss and deconstruct two seemingly oppositional ideas (innocent/guilty, radical/moderate, secular/religious etc). In doing this we consider if things are really so simple, or if seemingly commonsensical binaries actually hides, obscures or allows for much more complicated political dynamics.
Episodes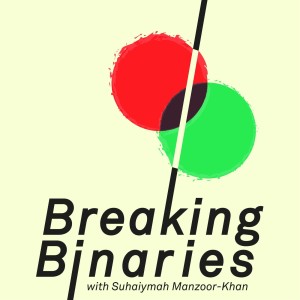 Saturday Jan 09, 2021
Saturday Jan 09, 2021
In Episode 6 of Season 2, Suhaiymah Manzoor-Khan discusses the binary of Victim and Perpetrator with Kristen Cherry.

Kristen is a survivor advocate and a movement worker based in Louisville, Kentucky, in the USA. She worked at her local domestic violence/sexual assault crisis center for 2 ½ years, counseling survivors in shelter, over the crisis line, and through the court process after filing for civil protection orders. Kristen is currently involved in community organising efforts in Louisville as protests continue following the police killing of Breonna Taylor in 2020,  that has included co-coordinating a protest arrest hotline, which provides support to protestors facing charges and connects them with free legal support. 
In this episode Kristen helped to shed light on the ways victim/perpetrator hides the contexts that produce violence, and enables them to go uninterrogated. Should violence be understood as an inherent part of someone, and equally, should being victim to it? How can we center survivors and healing, as well as create outcomes that lead to accountability and justice rather than merely offer incarceration as the solution to violence? 
The book mentioned by Kristen is Beyond Survival: Strategies and Stories from the Transformative Justice Movement. ed. Leah Lakshmi Piepzna-Samarasinha and Ejeris Dixon.
To read the transcript of this episode instead, follow this link: https://www.suhaiymah.com/breaking-binaries-transcripts.