Every episode Suhaiymah Manzoor-Khan is joined by a different guest to discuss and deconstruct two seemingly oppositional ideas (innocent/guilty, radical/moderate, secular/religious etc). In doing this we consider if things are really so simple, or if seemingly commonsensical binaries actually hides, obscures or allows for much more complicated political dynamics.
Episodes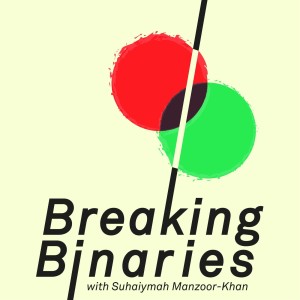 Saturday Nov 14, 2020
Saturday Nov 14, 2020
In Episode 1 of Season 2, Suhaiymah Manzoor-Khan discusses the incredibly timely binary of Fascist/Liberal with an anonymous guest. The discussion focuses on British and European contexts, interrogating the types of politics and policies that are defined as "fascist" or "liberal", and asking who they do and don't apply to, and whether fascist tendencies are really so distant from liberal ones? By discussing a wide range of relevant contexts and histories the binary is dismantled to uncover what it hides, who it protects, and what it obscures.

To read the transcript of this episode instead, follow this link: https://www.suhaiymah.com/breaking-binaries-transcripts.