Every episode Suhaiymah Manzoor-Khan is joined by a different guest to discuss and deconstruct two seemingly oppositional ideas (innocent/guilty, radical/moderate, secular/religious etc). In doing this we consider if things are really so simple, or if seemingly commonsensical binaries actually hides, obscures or allows for much more complicated political dynamics.
Episodes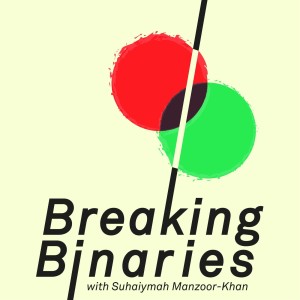 Saturday Feb 27, 2021
Saturday Feb 27, 2021
In Episode 9 of Season 2, Suhaiymah Manzoor-Khan breaks down the binary of Neocolonial and Postcolonial states with Vanessa Tsehaye.
Vanessa Tsehaye is an Eritrean human rights activist who was born and raised in Sweden. She founded the organisation One Day Seyoum when she was in high school to continue the work of her uncle Seyoum Tsehaye, a journalist who has been imprisoned without a trial in Eritrea since 2001. One Day Seyoum is today one of the largest youth organisations fighting against human rights abuses committed against the Eritrean people, both still in the country and after they flee. She holds a law degree from SOAS, University of London and currently serves as Amnesty International's campaigner for the Horn of Africa.

In this episode Vanessa helps dismantle the reductive way formerly colonised states are seen. How do the ways we glorify postcolonial states or condemn necolonial relations impact the people on the ground? Through her work to better the lives of Eritreans we unpicked the rhetoric that hides human rights abuses and obscures the displacement of so many people made refugees and harmed by borders. We ask what criteria we should use to extend support for states across the world, and how might we better understand dynamics of statehood?

For more information on One Day Seyoum's Eritrean Refugee Centre click here.
To read the transcript of this episode instead, follow this link: https://www.suhaiymah.com/breaking-binaries-transcripts.