Every episode Suhaiymah Manzoor-Khan is joined by a different guest to discuss and deconstruct two seemingly oppositional ideas (innocent/guilty, radical/moderate, secular/religious etc). In doing this we consider if things are really so simple, or if seemingly commonsensical binaries actually hides, obscures or allows for much more complicated political dynamics.
Episodes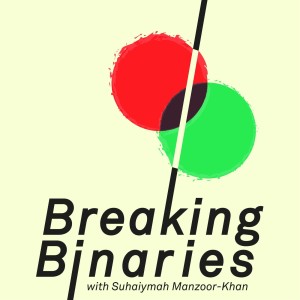 Saturday Nov 28, 2020
Saturday Nov 28, 2020
In Episode 2 of Season 2, Suhaiymah Manzoor-Khan discusses the binary of Free Speech and Censorship with Dr Sita Balani. Sita is a lecturer in contemporary literature and culture at King's College London. In her research and teaching, she explores the relationship between imperialism and identity in contemporary Britain. Her work has appeared in Feminist Review, Identity Theory, Open Democracy, Photoworks and the Verso blog. This episode's discussion centers on dismantling the straight-forward ways that Free Speech and Censorship are presented to us, and asks whether they're really such clear-cut categories - discussing what it means to be "cancelled" in a context where state censorship is rarely acknowledged as 'cancellation', and what sorts of conversations are obscured when we get stuck in the loop of asking whether certain words or cartoons should/shouldn't be allowed to be published. By discussing a wide range of relevant contexts and histories the binary is dismantled to uncover what it hides, who it protects, and what it obscures.

To read the transcript of this episode instead, follow this link: https://www.suhaiymah.com/breaking-binaries-transcripts.