Every episode Suhaiymah Manzoor-Khan is joined by a different guest to discuss and deconstruct two seemingly oppositional ideas (innocent/guilty, radical/moderate, secular/religious etc). In doing this we consider if things are really so simple, or if seemingly commonsensical binaries actually hides, obscures or allows for much more complicated political dynamics.
Episodes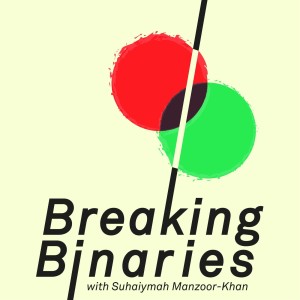 Saturday Jan 23, 2021
Saturday Jan 23, 2021
In Episode 7 of Season 2, Suhaiymah Manzoor-Khan discusses the binary of Fake News and Truth with Maryam Jameela.
Maryam is a writer and researcher with a background in academia, working in researching trauma, Islamophobia, and power structures. She's recently started working for the Canary as an investigative journalist, and her work can also be found via her Twitter handle, @yammatron. 
In this episode Maryam helped dismantle the rhetoric around 'combating Fake news' by considering the terms of the conversation itself, what constitutes 'fake' and how we go about declaring what is 'true'. Is there such thing as 'true' representation, if there is 'false' representation? Are historical narratives ever entirely true or false? How does this binary play into our very ideas about what knowledge and information are? 
To read the transcript of this episode instead, follow this link: https://www.suhaiymah.com/breaking-binaries-transcripts.