Every episode Suhaiymah Manzoor-Khan is joined by a different guest to discuss and deconstruct two seemingly oppositional ideas (innocent/guilty, radical/moderate, secular/religious etc). In doing this we consider if things are really so simple, or if seemingly commonsensical binaries actually hides, obscures or allows for much more complicated political dynamics.
Episodes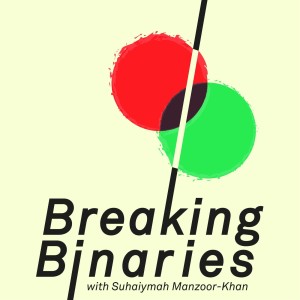 Saturday Jan 02, 2021
Saturday Jan 02, 2021
*BONUS EPISODE*

In Episode 5 of Season 2, Suhaiymah Manzoor-Khan discusses the binary of Britain as empire and Britain as nation, with Nadine El-Enany.
Nadine El-Enany is Reader in Law at Birkbeck School of Law and Co-Director of the Centre for Research on Race and Law, she teaches and researches in the fields of migration and refugee law, European Union law, protest and criminal justice. Nadine has written for the Guardian, the LRB Blog, Pluto Blog, Verso Blog, Open Democracy, Media Diversified, Left Foot Forward and Critical Legal Thinking. Her book, (B)ordering Britain: law, race and empire (2020) was published by Manchester University Press and is the basis of this episode's destruction.

Did Britain ever stop being an empire? Has Britain ever been a truly sovereign, bounded nation-state, or does 2021 mark the first year of it trying to be so? If all Britain's wealth, welfare and institutions are embedded in colonial conquest or infused by its profit, who gets to say what Britain is, or who is "outside it"? This episode's discussion comes as a bonus episode to mark the new year. Whilst we break down the binary, Nadine El-Enany also provides us with a hopeful discussion and reminder that the future is yet to be made, and Britain is "up for grabs".
To read the transcript of this episode follow this link: https://www.suhaiymah.com/breaking-binaries-transcripts.